Half as big again as a full-grown man. Hunters; Soldiers; Magistrates; Central Planners. Green four-armed aristo-commisars, acting out Star Trek cargo-cult legends in colourful stone ziggurats!
Details of their history are found elsewhere (the background of Punth is found here and here); for now, I shall concentrate on physical features. Ten foot would be moderately tall for a Qryth. They possess two forward facing eyes, but set in what would be the forehead on a human. Skins tones vary between shades of ochre and green, but rarely approaching the bright green of grass or the solid dark green of moss. The Qryth are hairless, but have been known to use animal pelts in (perhaps unconscious) imitation of body hair.
They possess four arms and two legs, the arms being set either side of the torso. The lower, slightly smaller set of arms is commonly used for fine-detail work or in expressions of intimacy. To greet someone with the upper arms only is - in fact and in verse - to propose a formal, distant relationship. The musculature of the limbs is somewhat helical to the viewer.
The Qryth give birth to live young, although they do not suckle them and are, accordingly, breast-less. Eggs are swapped between Qryth, rather like seahorses. This is a private affair - though it is possible that Qryth mores have been shaped in this regard by their time in Punth. Likewise, the organs of generation are generally concealed. Male and Female are adopted as terms of convenience. This has relatively little bearing on the matter of Qryth behaviour: they are Sky-Princes before all else.
Qryth youths go fairly promptly from parents to creches to isolated boarding schools. Given how few the Qryth are, their children are gathered together to create a lasting Qryth identity.
One hundred years is a not uncommon age for the Qryth to reach - though having made your century is grounds for retirement. After the age of sixty (or thereabouts) the Qryth develop a distinct sheen and set of streaks to their skin, rather like the bark of a hornbeam.
Qryth names are discussed here, in Ch. 8 of the Primer.
This class should function with a party of adventurers from outside Punth or inside. Rogue Qryth are exceedingly rare, but this should not stop them from appearing on the tabletop. As much as Qryth do have a fairly rigid set of social roles, hunting trips, solo journeys and other forms of independent action are not unknown.
In a Punthless and Codeless setting, adjust as necessary.
So, to the mechanics - using, as before, The 52 Pages (download, author's blog).

***
THE QRYTH

Size: 2
Move: 15
HP - d8+1+ CON +/-.
Attack Modifiers - +1/+1
Mind Save 5 + WIS +/-
Speed Save 7 + DEX+/-
Body Save 5 + CON +/-

Knowledge Notice Detail Hear Noise Handiwork Stealth Athletics
[X] [X] [X] [X] [ ] [X]
Must start with Background word Punth. This encompasses a Desert background, plus the unique traits of that land. Qryth prefer the warm and suffer in colder climes.
Four Arms: A Qryth can carry more things at once than other people, though this does not translate to STR 18 encumbrance. They can, however, effectively wield a two-handed weapons and a shield simultaneously, or reload a Heavy Crossbow in one turn. A Qryth could carry two two-handed weapons, but would be obliged to use them alternately.
Stealth and Size: The Qryth are used to trying to conceal themselves in the desert, though their size can work against them. Indoors, naturally, this becomes harder. A Qryth can go on all fours (legs and lower arms), making them lower but longer. Thus they can go inside human-size dwellings and still use the upper arms to fight or work - but this is relatively strenuous and going round corners is difficult.
If a Qryth below Lvl 3 has to spend a game turn like this, they take Fatigue Damage.
Some Qryth soldiers, akin to commandos, specialise in this sort of unglamorous work.
Qryth Anatomy: Healers from outside Punth will struggle to assist the Qryth. They can turn a Mortal wound to a Critical one, but they cannot Speed Recovery.
There is a One in Ten chance that a particular poison will not effect a Qryth.
Languages: A Qryth starts with twos Languages: the Codes and the script of Punth.
Any language slots a Qryth player might otherwise possess are 'banked' until later levels.
Hirelings and Henchmen: Outside Punth, normal rulings apply.
Inside Punth - it is always possible for a Qryth to find Hirelings or Henchmen, CHA notwithstanding. Social problems may arise from this, but not mechanical ones.

Armour: Outside Puth, all Armour must be made specially for the Qryth. Extra costs will apply.
A Qryth may start with Light or Partial Medium Armour.

Level Advancement: +1 Melee, +1 Missile every Even Level
+1 to all Saves every Odd Level
A player that wishes to roll up a Qryth must have at least 13 STR.
***

Suggested backgrounds and other details: Typically, a Qryth would be expected to be a Soldier, Magistrate, Tactician, Logistician, Pedagogue or Scholar-Poet. The first four of these will have a fairly formal rank structure (as before, a Qryth fighter would be known by certain high and ancient names - Astronaut, Espatier, Star Commander, &c. Vertebraean usage tends to refer to a Qryth Knight, Commander, Marshall.)
The Qryth have a heavily ritualised, legendary idea of their own history. This extends to the various remaining gadget relics in their possession.
They tend to be ill-informed about magic and religion (both in terms of fine detail and how they fit into a wider picture).
***
The literary and socio-political inspirations for the Qryth have been covered fairly explicitly elsewhere (though I shall make a dedicated Appendix N post one day), so I shall here post a few bits for the look of the Qryth. Hopefully having read the above, you will have a mental image of your own, but a few reference points seem worthwhile.
Edgar Rice Burrough's
Barsoom
stories offers the first inspiration for the look of the Qryth. The
Green Martians
(also Tharks) are the main reference. The
Thri-Kreen
of
Dungeons and Dragons
have a slight influence, but little more. The Qryth are not insects.
Green Martians, are of course green, four-armed, fifteen-foot barbarians. This image found here.
(The 'Barsoom' tag on Jewel in the Skull is useful, but be warned that you will
see numerous mostly-naked folk in various things that might be considered clothing)
Some depictions have them more bestial than others.
Image found here; art by Richard Corben.
Others appear to be 1.5 green bodybuilders.
Image found here; art by Joe Jusko.
My preference is for the Qryth to be on the leaner side - and, of course, without tusks. The 2012 Barsoom adaption John Carter opts for something thinner than the above.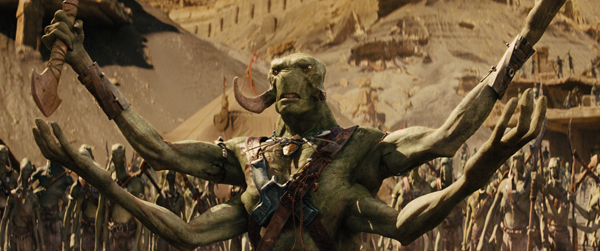 From the 2012 film John Carter.

I rather like this concept art for the same, by Dermot Power (his website).
This image, and others like it may be found here - do take a look.
[Notes and pictures on the Qryth architecture found
here
]
EDIT: I am properly reminded by a post at
Vaults and Van Gogh
of the Green Martians as portrayed by
The League of Extraordinary Gentlemen
. I've always time for Kevin O'Neill's art detailed art; these are vast and bulky, with skull-like faces, staring eyes and prominent teeth and tusks. Here they are off to fight the Martians from
War of the Worlds
.